Our Services
We offer a range of services which can include bespoke projects, allowing our clients a choice of how much work we undertake on their behalf – we charge of a per diem basis for the work that we undertake.
Regardless of how we assist our client, we continue to offer a commentary on the recruitment marketplace, with incisive feedback.
Executive search is an innovative process allowing you to identify the best talent that can make a real difference in your organisation. It means that you can take a proactive role in the recruitment process, which will give you an understanding of the talent and skills sets available to you and your organisation - ensuring that you make well-informed recruitment decisions every time you hire.
Travis Research has established an effective research methodology that has been used and developed over the years in order to produce the best talent possible for you.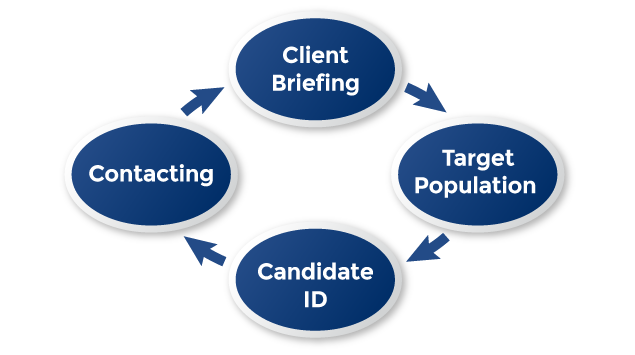 Client Briefing
An initial meeting or telephone briefing is arranged to ascertain the requirements of the client. Time and cost budgets are set in advance and are not exceeded without written authority.
Target Population
A target list is compiled of potential companies, i.e. direct competitors, associated business sectors, product, or geography.  This is then agreed by the client before candidate identification commences.
Candidate Identification / Mapping of Organisations
Potential candidates are identified within the target population; we then begin to create a report adding profiles wherever possible. This is reviewed with the client, and a longlist of candidates is created.
Contacting
The potential candidates are contacted to establish their level of interest and initial suitability for the role, (client identity can be protected at this stage if necessary).  CV details of candidates who express an interest are presented to the client, where candidates are not interested, feedback is obtained and reported. This information provides clients with real time market insight in terms of employer branding, remuneration & talent in the market. Any information obtained is forwarded to the client.
Management Consultancy in Executive Search
Sales Director
Our client required a Sales Director to be based in the UK, requirements were to plan, develop and implement the growth strategy and tactics for the sales of certain products of the company, and to lead, develop and motivate the Sales and Estimating teams to deliver agreed performance plans, budgets and timescales.
We conducted a UK search in the approved target companies, and came up with a shortlist of potential candidates which we then presented to the client. We then approached these candidates so we could gain more information about them, and gauge how well they suited the role.
Talent mapping is a cost-effective way of obtaining market intelligence to ensure you stay ahead of your competition. It can offer a benchmark for roles in specific geographic locations and industries - and will also produce real time data from candidates.
Whether it is mapping out talent in order to create a talent pipeline, looking at how competitors structure their organisations, or carrying out salary surveys; Travis Research will always find the most up-to-date information through a variety of reliable, tried and tested methods.
Bank
Talent Pipelining
Our client required us to undertake a benchmarking exercise in order to create a database of potential candidates to fill their future succession planning requirements.
We identified candidates in the specified geographical areas from the agreed target companies, with insight gained from desk based research and telephone sourcing. We confidentially approached these candidates to assess their interest.
Talent pipelining is the process of building long-term relationships with talent for future vacancies in organisations. Having a talent pipeline ensures that candidates are already known to clients, and have interest in an organisation before a vacancy arises.
Travis Research can help to create a talent pipeline by determining the desired skills and qualifications an organisation is looking for; and then identifying individuals who fit this remit and are interested in maintaining a relationship for any future opportunities in the company.
Luxury Department Store
Retail Operations Mapping Project
Our client required a mapping exercise of the Retail Operations structures across 3 of their direct competitors based in the UK.
We gained intelligence through desk based research which was then verified through in-depth conversations with individuals that we had identified as sources. Organisational charts were then produced for each target company, displaying the reporting structure and the size of teams.